SHARON ELEMENTARY SCHOOL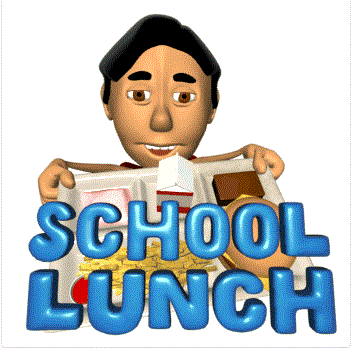 Meal Prices for 2013-2014
PARENTS ARE NOT ALLOWED TO CHARGE A MEAL ON A STUDENT'S ACCOUNT.
ATTENTION PARENTS:
Ourautomated system will not allow further meal charges to student accounts after
May 2, 2014. Studentswithout funds will be offered a courtesy meal of sandwich and milk. Pleasecheck account balances to determine the funds needed for meals for theremainder of this school year. Money oncustomer accounts will carry forward to next school year. Remember to note your child's Student ID onyour check or to include it with cash in an envelope. We accept Free and Reduced Applications eachschool day.
A red Cafe' stamp on the student's hand indicates that the account balance is low and please send in more funds.
Students with a negative balance and no ability to charge another meal will be given a milk and cheese sandwich (4" hamburger bun w/2 slices of American cheese) for lunch. This is a county wide policy. SEE STATEMENT BELOW.
SCROLL DOWN FOR THIS WEEKS MENU AT
SHARON ELEMENTARY
Golden Plate Award Winners for 2012-2013
CONGRATULATIONS TO SHARON CAFETERIA FOR WINNING THE DISTRICT RECIPE CONTEST IN THE VEGETABLE CATEGORY. THE RECIPE CALLED FOR BANANA PEPPERS AND
WE WERE ABLE TO USE OUR VERY OWN BANANA PEPPERS FROM THE DIGS GARDEN
!
THE STATE RECIPE CONTEST IS IN MARCH WITH THE WINNER ANNOUNCED IN APRIL AT STATE CONFERENCE
.
This month we are focusing on
Berries
and
Melons
in the cafeteria. Check out our information with "Did You Know" about these items on our lunch tables.
*
Please note that due to limited availability, some items may have to be substituted
Students may eat in their classrooms or dine in the cafeteria.
Monday Tuesday Wednesday
Chicken Biscuit Chicken Biscuit Chicken Biscuit
WG French Toast Sticks WG Honey Bun French Toast Sticks
2Muffin Tops w/Yogurt WG Mini Pancakes Breakfast Bagel
Cereal Yogurt w/ WG Wrapped Muffin Cinnamon Pancakes
Thursday Friday
Chicken Biscuit Chicken Biscuit
WG Cinnamon Roll WG French Toast Sticks
2Muffin Tops w/Yogurt Sausage Biscuit
LUNCH MENU
*
Please note that due to limited availability, some items may have to be substituted
Monday 5/19 Tuesday 5/20 Wednesday 5/21
Chicken Nuggets Hamburger/Cheeseburger Asian Chicken Bites
Country Steak w/ Gravy Mini Chees Ravioli Pepperoni Calzone
Veggie Nuggets Protein Burger Garden Burger
Chef Salad Chef Salad Chef Salad
California Salad Ham & Cheese Sub Grilled Chicken Salad
Ham & Cheese Sub PB&J Ham & Cheese Sub
PB&J PB&J
Thursday 5/22 Friday 5/23
Teriyaki Chicken Cheese Pizza
Taco Bites Pepperoni Pizza
Black Bean Burger PB&J
*WG = Whole Grain
We made it with fresh basil from our DIGS Garden!

INGREDIENTS:
4 cups Fresh Tomatoes--cubed
1 ½ cups Cucumber—cubed
½ cup Red Onion—diced finely ½ cup Italian Salad Dressing
½ tsp. Garlic Powder 1 tbsp Fresh Basil leaves—finely chopped
INSTRUCTIONS: Wash, core and cut tomatoes and cucumbers into bite-sized pieces. Finely dice red onions and basil, then combine together with tomatoes and cucumbers. Mix garlic powder with dressing. Pour dressing mix onto combined vegetables, mixing well. Keep refrigerated until serving.
Go to our county website ww.forsyth.k12.ga.us under school nutrition for a low cost/no cost meal form
(Once you click on the link above, please scroll down to the middle of the page to see the menus")

Click Here For F
orsyth County Schools Food & Nutrition Services Information
*Meal Charge policy and Courtesy Snack
The Board policy for students without adequate funds to purchase school meals allows for elementary students to charge up to 5 lunches. Negative meal charges are not allowed for middle or high school students, adults, or for any a la carte purchases. Students who have unpaid meal charges will not be allowed to purchase a la carte food items until meal charges have been repaid.
Elementary students who have exceeded the charge limit, as well as middle and high school students without sufficient funds for lunch, will be offered an alternative snack of a cheese sandwich and milk or juice. To prevent your child from being offered the courtesy snack, please provide money for your student's meals each day or prepay for meals in advance. School cafeterias make every effort to inform students and parents when funds are low with notices sent home via student, verbal reminders to students, and cafe stamps.
Parents are responsible to ensure that children have an adequate lunch from home or sufficient funds to purchase school meals. To assist parents, student account balances can be monitored any time via www.Parentonline.net regardless of whether you use the online funding option, send cash or checks, or you may call the school nutrition program.
To view a student meal account balance (or to fund their account) go to www.Parentonline.net and create an account. Add your student(s) by entering their student ID# and selecting their school. The account balance displays in the middle of screen. We also recommend that you set a
Low Balance Alert ($10 or higher is suggested) using the links on the page to receive an email reminder when funds are low.
Charging for any meals will be discontinued during the last three weeks of the school year.
2/2014