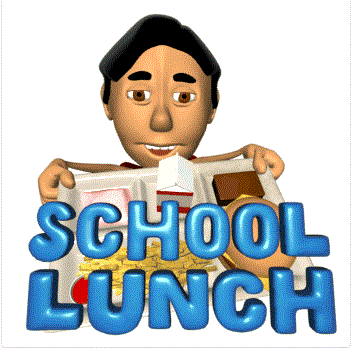 Meal Prices for 2013-2014
PARENTS ARE NOT ALLOWED TO CHARGE A MEAL ON A STUDENT'S ACCOUNT.
WE NO LONGER USE
MYLUNCHMONEY.COM
AS A PAYMENT SERVICE. ALL MONEY HAS BEEN FUNDED INTO STUDENT'S ACCOUNTS. THERE IS NO NEED TO GO TO THAT WEBSITE TO TURN OFF AUTOMATIC PAYMENTS, THAT HAS BEEN DONE FOR YOU.
WWW.PARENTONLINE.NET
WILL BE OUR NEW SERVICE PROVIDER. YOU MUST REGISTER YOUR STUDENTS UNDER THIS SERVICE IF YOU WISH TO PAY WITH A CREDIT/DEBIT CARD.
A
red Cafe' stamp on the student's hand
indicates that the account balance is low and please send in more funds.
SCROLL DOWN FOR THIS WEEKS MENU AT
SHARON ELEMENTARY
Golden Plate Award Winners for 2012-2013
CONGRATULATIONS TO SHARON CAFETERIA FOR WINNING THE DISTRICT RECIPE CONTEST IN THE VEGETABLE CATEGORY. THE RECIPE CALLED FOR BANANA PEPPERS AND
WE WERE ABLE TO USE OUR VERY OWN BANANA PEPPERS FROM THE DIGS GARDEN
!
THE STATE RECIPE CONTEST IS IN MARCH WITH THE WINNER ANNOUCED IN APRIL AT STATE CONFERENCE
.
This month we are focusing on SALAD GREENS in the cafeteria. Check out our information with "Did You Know" about these items on our lunch tables.
Airplane Salad with Greens, Grains, and Seeds
4 to 5 ounces (about 3 cups) choppedsturdy greens like kale, spinach, or romaine hearts

1 cup leftover vegetables, like steamed broccoli, chopped avocado, chopped bellpeppers, or diced carrots

1/2 cup chopped frozen fruit, like peaches, mango, berries

1/4 cup cooked and cooled grains, like brown rice, quinoa, barley

1/4 cup nuts, seeds, or raisins

2 tablespoons extra virgin olive oil

1 tablespoon freshly squeezed lemon juice

Salt and pepper to taste
Combine all the ingredients in a portable,sealable container and shake to combine.
BREAKFAST MENU
*
Please note that due to limited availability, some items may have to be substituted
Students may eat in their classrooms or dine in the cafeteria.
Monday Tuesday Wednesday
Chicken Biscuit Chicken Biscuit Chicken Biscuit
WG French Toast Sticks WG Honey Bun WG French Toast Sticks
2Muffin Tops w/Yogurt WG Mini Pancakes Breakfast Bagel
Cereal Yogurt w/ WG Wrapped Muffin Cinnamon Pancakes
Thursday Friday
Chicken Biscuit Chicken Biscuit
WG Cinnamon Roll WG French Toast Sticks
2Muffin Tops w/Yogurt Sausage Biscuit
Cereal WG Apple Cinnamon TX Toast
LUNCH MENU
*
Please note that due to limited availability, some items may have to be substituted
Monday 12/09 Tuesday 12/10 Wednesday 12/11
Chicken Nuggets Veg Beef Soup w/Grill Cheese Asian Chicken Bites
Country Steak w/Gravy & Rice Hamburger or Cheeseburger Quesadilla Pizza Wedge
Veggie Nuggets Protein Burger Garden Burger
Chef Salad Chef Salad Chef Salad
California Salad Pizza "Munchable" Veggie Salad w/Cheese
Turkey & Cheese WG Sub WG PB&J
Ham & Cheese WG Roll-up
Thursday 12/12 Friday 12/13
WG Soft Beef Tacos Pizza Wedge
Teriyaki Chicken Nuggets Teriyaki Chicken Nuggets
Black Bean Burger Veggie Nuggets
Chef Salad Chef Salad
Pizza "Munchable" Grilled Chicken Caesar Salad
WG PB&J Turkey & Cheese Sub
*WG = Whole Grain
We made it with fresh basil from our DIGS Garden!

INGREDIENTS:
4 cups Fresh Tomatoes--cubed
1 ½ cups Cucumber—cubed
½ cup Red Onion—diced finely ½ cup Italian Salad Dressing
½ tsp. Garlic Powder 1 tbsp Fresh Basil leaves—finely chopped
INSTRUCTIONS: Wash, core and cut tomatoes and cucumbers into bite-sized pieces. Finely dice red onions and basil, then combine together with tomatoes and cucumbers. Mix garlic powder with dressing. Pour dressing mix onto combined vegetables, mixing well. Keep refrigerated until serving.
Students with a negative balance and no ability to charge another meal will be given a milk and cheese sandwich
(4" hamburger bun w/2 slices of American cheese)
for lunch.
This is a county wide policy
.