Welcome to the Media Center!
About the Daves Creek Media Program
The vision of the Daves Creek Elementary library media program is to de

velop successful, independent users of information and lifelong learners.
The DCE library media program supports the classroom curriculum, integrates information literacy skills, promotes literature appreciation, and serves specific needs of students and teachers.
Important Announcements
The Lexile"Find a Book" website can help identify books that students are interested in and are able to read. This tool can be found at www.Lexile.com/fab/GA.
You may also find this information posted on
www.georgiastandards.org
. Additionally,information about Lexiles on student test reports and how to use this information can be found at
www.gadoe.org/lexile.aspx
.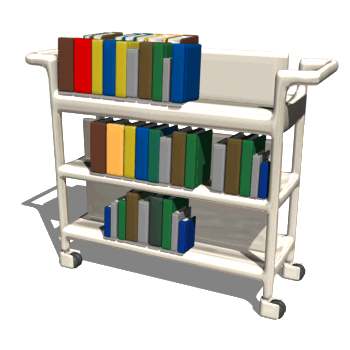 At the

Daves Creek Media Center

we are proud of our collection of over 25,000 books, far surpassing the American Library Association standard of 10 books per student. We have a state of the art, networked computer system which enables students, staff, and parents access to our library catalog, Destiny, PebbleGo, GALILEO, and other curriculum-based programs.
Our media staff provides continuous educational instruction for both students and faculty. Students begin the year with a basic library orientation, followed by training on Destiny and reference materials. Collaboration with the classroom teachers to support instructional needs is ongoing. Our Media Center operates on a flexible schedule which allows students to visit anytime during the day.
Don't forget our wonderful local library online.
Free Summer Reading Program:
Children who read all 25 interactive ebooks will receive a free book!
Teachers who organize the effort and submit passports for 10 or more children will receive one-year free access to all 140 Arbordale interactive ebooks and 5 books for their classroom.
If five or more teachers from the same school submit passports, the school earns 25 or more books and unlimited school-wide and home ebook access.

Arbordale wants to make a difference. We understand how important it is for children to read over the summer to avoid a summer slump and are excited to announce our "Read around the World" summer reading program with 25 free interactive ebooks to read at home, school, or on the go all summer long. Children will love "stamping" their "Passport to the World" with books they've finished, and shouting "BINGO" when they reach five in a row on their BINGO cards. Families will find tons of fun activities and games to play on our Summer Reading Pinterest page. To learn more, go to our Summer Reading web page.
These are not your run-of-the-mill ebooks. Arbordale's interactive ebooks can be read quietly with your child, or you can click play to watch and listen as these amazing ebooks read aloud in both English and Spanish! Follow along with word highlighting and adjust the reading speed to promote oral language skills, vocabulary, pronunciation, text engagement, and reading comprehension. And your kids will love our two latest features: animal sounds and single words read aloud when tapped (note: 6 of the 25 have the new animal sounds and all should have them by the end of May. Single word read on tap is only available on the iPad app).
Click here to download the passport with 25 cover image stamps. Cut out and affix stamps in the appropriate world region as books are read ... like a US National Park passport!

To get the child's well-deserved, free book, when all 25 books are read and the passport is full, a parent signs the passport and either sends it on to the child's teacher, or mails it directly to Arbordale with a parent contact form.
Ebook access expires on August 15th. Completed passports with all 25 stamps attached should be signed by parents and received by Arbordale not later than September 30th. Mailing information and parent teacher forms are on the Summer Reading web page.

Please forward this Summer Reading information on to your friends, colleagues, and the children's families at home. Let's see how many ebooks can be read over the summer...500,000? A million?
Once Upon an Elephant
Children's Choice Finalist - voting ends May 7th.

We are honored to have Once Upon an Elephant chosen as a finalist in this year's Children's Choice Awards sponsored by the Children's Book Council and Every Child a Reader. The award is determined by children reading the finalists and then voting on their favorites. To make that easy, we are making our dual-language, interactive ebook available during the voting period from now through May 7th.
Author Linda Stanek tells the story behind the Children's Choice Award finalist..
Our books are available through all major distributors, bookstores, and directly from Arbordale. The 25 books in our Summer Reading Program are available through our our online store as the "Summer Reading Set" in hardcover, paperback, and Spanish paperback formats. When creating your store account, please make sure to register as a school, public library, or individual, to receive the appropriate discount.

Copyright © 2017 Arbordale Publishing, All rights reserved.


Our mailing address is:
Arbordale Publishing
612 Johnnie Dodds Blvd., Suite A2
Mt Pleasant, SC 29464
Last Modified on June 5, 2017